To have an access to a clean water source, Camalig Bank Milaor Office donated a water tank to Sampaloc Elementary School in partnership with the school's PTA officers last November 16, 2019.
The aforementioned school was among their choices as this year's beneficiary for their corporate social responsibility. The school has poor access to clean and safe water that could affect the pupils' health and wellness, thus, Milaor office decided to procure a water storage for them.
Arriving at the venue, the team was greeted by the principal, teachers, parents and kids painted with full smile on their faces. The program was started with the invocation led by Ms. Claire Lagamayo followed with the opening remarks and welcome address presided by Ms. Wenema Joy C. Flores, school principal.
Ms. Mary Ann A. Pante, manager of Milaor branch, gave her short message for turning over the project. After which, the team held some games for the kids to add some fun to the program. Setting the mood, Ms. Lalynfrancis P. Landong told a story regarding Financial Literacy and took the opportunity to offer the products of Camalig Bank.
Just before finishing the program, the team held games again but this time was joined by parents and teachers. Ending it with a bang, Ms. Mary Ann A. Pante, the manager, gave her closing remarks.
Camalig Bank celebrates its 50th year with the theme: Let's redefine Banking. Given that Milaor Office personnel redefines as much as they reevaluate the environment with a view of change. For them, celebrating means sharing as they extend their grateful heart to those in need.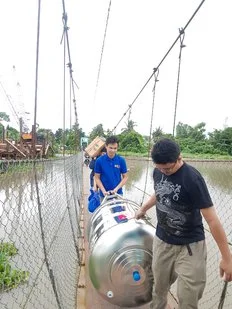 CONQUERING THE ODDS. Despite the challenge of logistics, CB Milaor team was able to successfully transport the water tank to Sampaloc Elementary School.
AMPLIFYING THE ADVOCACY. Ms. Lalynfrancis P. Landong, CB Milaor personnel teaches financial literacy through storytelling for the kids and the parents as well.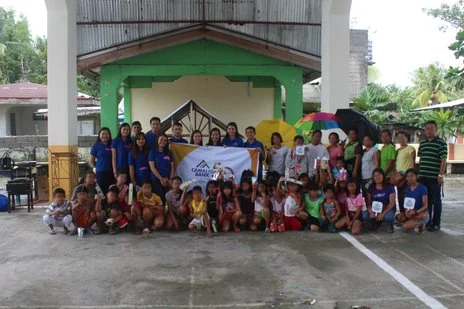 CB Milaor team together with Sampaloc Elementary School pupils and parents as they conclude the one-day CSR activity.
Prepared by:
Rooklyn Angela F. Honorio
Accounting Unit - MO