The Camalig Bank Foundation (CBF) held a half-day Youth Business Symposium on Saturday, December 18, 2021, at Padang Shrine, Barangay Padang, to teach an entrepreneurial mindset to young people in Legazpi City.
With the theme "Young Entrep Minds: Venturing into the World of Online Selling," the event was attended by 42 combined participants from Pawa Youth Organization and Padang Angat Youth. These youth are mostly online business owners, students in business-related courses, or currently in senior high school taking up Accounting, Business, and Management strand.
Learning from the experts, four (4) home-grown businesses from different industries were invited: for the food industry, Mr. Victor and Mrs. Seiya Delgado of Sousei Ryori Hauz discussed their journey on putting up the Japanese restaurant in the city of Legazpi, while for the clothing industry, Liezel Magdasoc, the owner of Totie Shoppe, an online clothing shop, told her struggles and successes in maintaining a physical store while catering it to the online community, and for the service industry, Vergel Gregorio, a visual artist, and owner of Vergel Gregorio Store, an online art merchandise store, showcased his artworks, products, and services during his talk.
Moreover, the topic of financial literacy is given importance as one of the thrusts of the Foundation: Prof. Elmer A. Lorenzana, Bicol University Center for Policy Studies and Development Director, shared how to manage finances and go about with their business in the online world. Also, Mary Ann Goyena of Camalig Bank Business Development Department discussed Camalig Bank products and services that may be helpful for the participants.
During the event, Mary Jonelyn A. Ardales, CBF Project Coordinator, emphasized that the activity was an excellent venue for the youth participants to learn how to respond to the challenges faced by businesses during the financial crisis brought about by the pandemic. It also opened new ideas to develop, organize, and manage their business ventures. The activity also looked into potential would-be entrepreneurs from the youth sectors.
The event was concluded by conducting the yearly tradition of CBF, which is Christmas gift-giving. CBF shared gift packages with this year's youth participants.
Ms. Mary Jonelyn Ardales with Liezel Magdasoc, owner of Totie Shoppe, the millennial clothing store in Albay.
Ms. Mary Jonelyn Ardales with Mr. Victor and Mrs. Seiya Delgado, owners of Sousei Ryori Hauz, a Japanese restaurant located in Albay.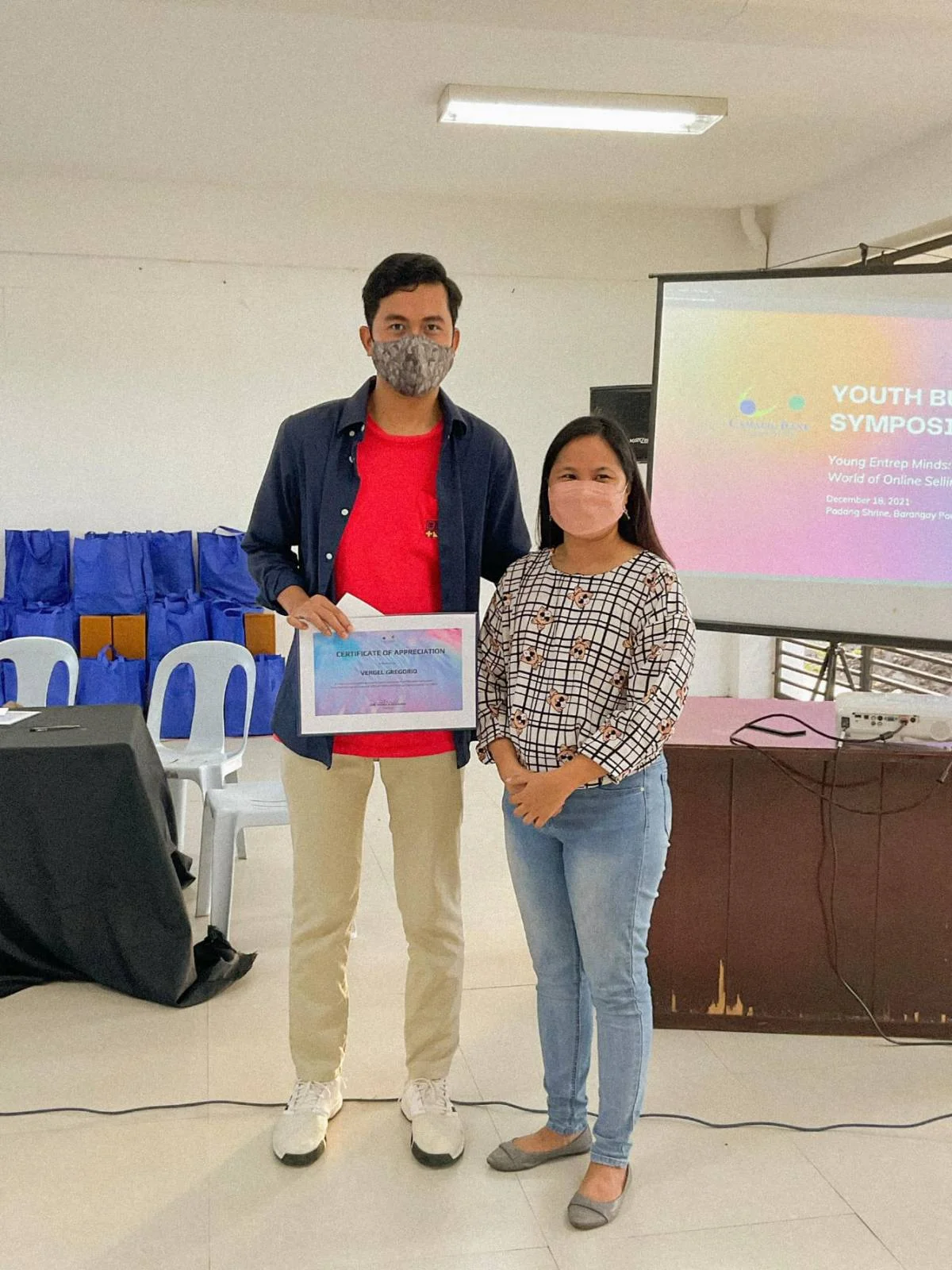 Ms. Mary Jonelyn Ardales with Vergel Gregorio, a visual artist and owner of Vergel Gregorio Store, an online art merchandise store.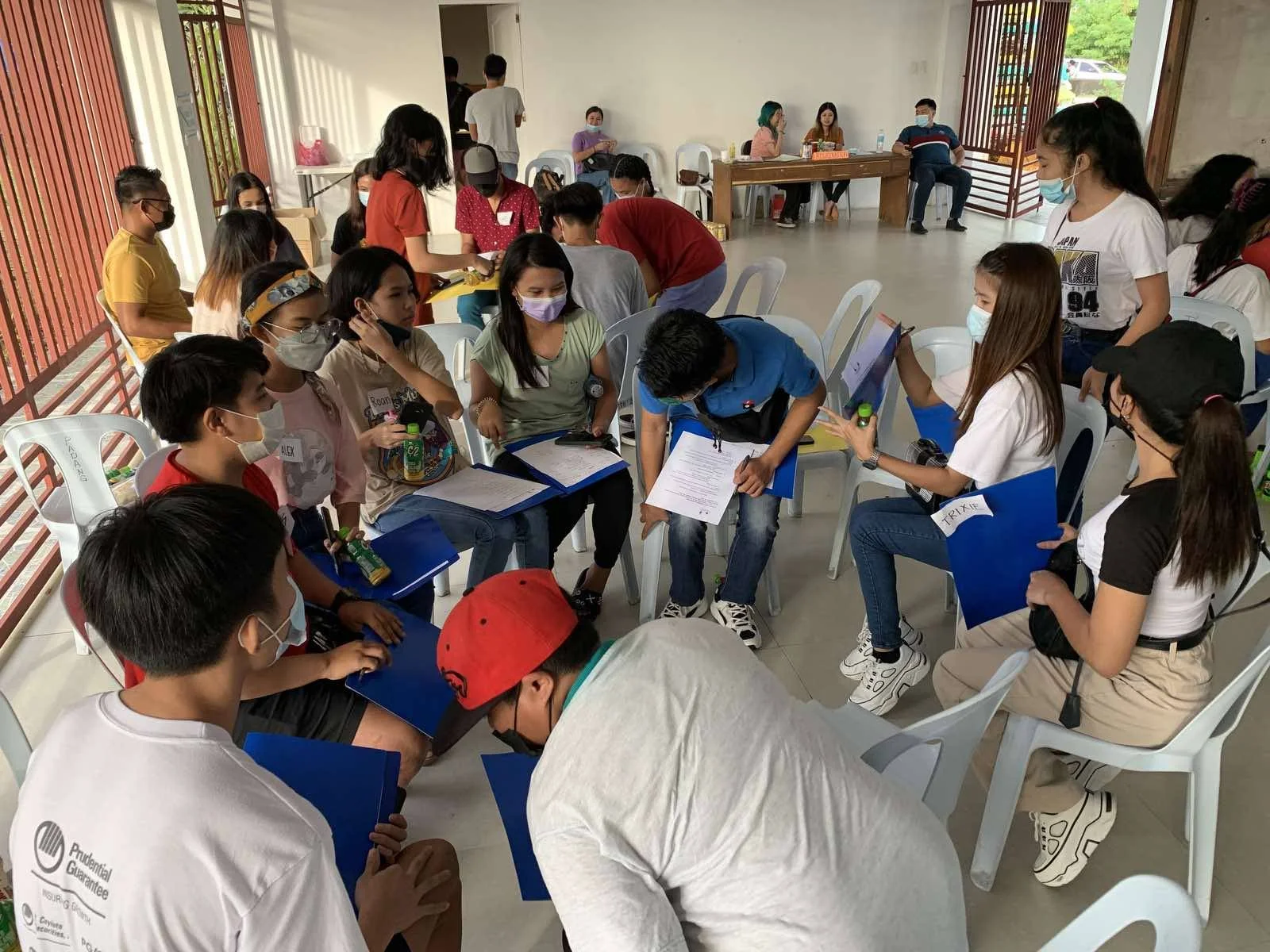 Huddle and brainstorm. The participants sharing their business ideas during the Business Youth Symposium.
Gift-giving time. This has always been the tradition of the Camalig Bank Foundation during December; for 2021, the chosen beneficiaries were the youth.